Motor Number P90781.
Originally installed in a 1957 Carrera GT Coupe.

Completely restored by one of the best Porsche 4-Cam specialists in the World.

Presently strapped to a shipping crate and ready to be sent anywhere.
Exactly as you see it shown in these two recent photos.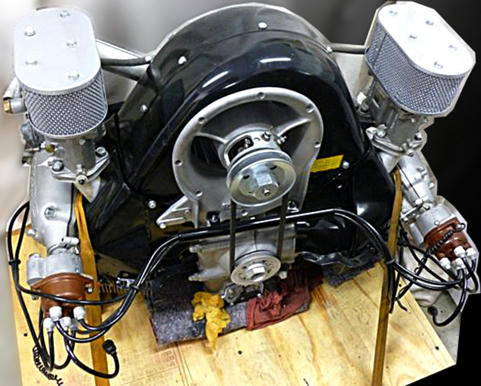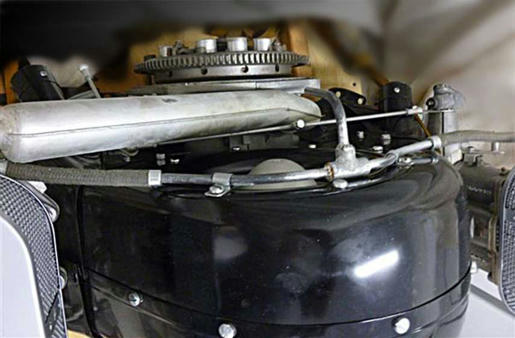 Porsche built about 1,700 four-cam motors (ie; one thousand seven hundred+/-).
They are considered quite rare and unique.
If you are looking at this listing, chances are excellent you already know this. [but then...]


This will be a 'threshold sale'; payment in full prior to being made available for delivery pick up (at the threshold.)
Deposit of $10,000.00 to be made within 48 hours of auction end.
We will work out the specifics of balance wire transfer once in direct contact.
My goal is to make this as smooth as possible.

Located in the Western United States- it is an easy matter for commercial freight service loading and transport for shipment.
Buyer assumes all costs of shipping.

Special notes: Soon after the rebuild was completed the motor was installed in a vehicle, started up, driven a couple of miles, then removed and stored (as shown.)
• It has been sitting -'pickled'- for at least a dozen years. In that crate, covered and waiting -in a climate controlled environment.

Properly 'pickled' with 'bean oil' since being set aside, it is strongly advised the new owner should have it partially disassembled and properly cleaned before use.
Bean oil 'sets up' over time and kind of coagulates in narrow lubricant yields, galleys, and fluid pass through locations. It's the nature of bean oil.
*This "cleaning" flush is NOT a matter of a complete rebuild, but simply a partial tear down and thorough cleaning.

One thing is absolutely certain; they're not making 4-cam motors any more. (Save for CA, GmbH.)

Authentic Porsche 4-cam motors are scarce and hard to find, they don't appear on the market much.

• If you always wanted one, if only to hold for investment value- bid like you want it!
Definitely 'money in the bank'.
It wasn't that long ago you could get a nice 4-cam for $8K!
(Look at the great reference to past ads in the club mag! Shoulda, woulda, coulda, eh?)

This is a NO RESERVE auction- which means it will sell to the highest bidder.
The motor is being made available through other outlets and advertised in print publications- so, subject to prior sale.
I'm ready, willing and able to answer any questions potential (serious) buyers may have. And I'm quick to respond too.

Appreciate your interest in this motor.
If you bid, good luck and I hope you prevail in the end.

PPI can be arranged. Copy of build details goes to buyer -post sale.


Yes, I removed reference to the original builder of the motor because it isn't my place to volunteer his time and effort.
When the sale is done I'll make a conference call introduction between buyer and builder- let them sort it out amongst themselves.
That access is like icing on the cake (IMO), but utilizing his skill and expertise is not a component of our motor sale deal.

**Those are actual photos of the motor. I blurred the nonessential parts because they aren't germane to the object being offered.


Appreciate the many calls and emails I've received.
Yes, open to offers.
My ONLY GOAL is to sell it.



---
On Jan-08-14 at 11:31:32 PST, seller added the following information:
This is a Fuhrmann 4-cam motor.
It is a 547/1, and the Engine Number is clearly represented as such in the text.

It is not a "GT" motor- as no such stamping on the block or in other records show that designator.

As stated above; it was originally installed in a "1957 GT Coupe" does not mean it is a "GT" motor, nor is it suggested as such.
*Mention of this point of origin was provided by someone familiar with the Chassis and motor- I merely passed that detail along.
**Also, I have no connection to the original chassis and don't know if the car is truly a "GT" or not. Nor do I care.

It's the MOTOR being sold. Make of it what you will.
NO, I don't know where the chassis is. If I did, I wouldn't share that with anyone- it's not my place to do that.

Current bidders have just been given the option to cancel their bids, if this "GT" thing factors in their decision to participate in the auction.

I may also close the auction; Even if I don't see this "GT" matter as an issue- it could be to someone else.
To the one person (out of 30+ who have entered into discourse with me about this motor) who asked if it was a "GT" or not- this is your answer.
NO, it is not a "GT" motor.

My purpose in putting this auction up on eBay is to sell the thing.
I've provided -what I believe to be- sufficient detail describing it.
This addendum is meant to clear up any doubt there may be, if there is any at all anyway -- NO "GT" MOTOR HERE FOLKS, keep on moving.

I have advertised the motor in print publications, on-line, and through other means; here and abroad.
That has generated a great deal of interest in its sale. I appreciate all the contact I have had.
Thanks for that.

It will sell soon and be somewhere else - and maybe not to appear again for another dozen years (like this time!)
Like a comet, eh?




---
On Jan-10-14 at 06:31:39 PST, seller added the following information:
In a few minutes I will cancel this auction.
Mainly because of the confusion regarding "GT" -vs- "Carrera" -vs- "plain ol' 4-cam motor" designations.

I am notifying the current bidders about this cancellation directly.
As well, notifying a few serious 'players' interested in purchasing the motor who have expressed some concern over the referenced 'confusion'.
(While 99% of them know exactly what this motor is, and isn't - there's that 1% I don't need to encounter at the close of the auction.)

The motor will reappear as an eBay auction on MONDAY next.
All the details shall remain the same, save for any mention of any 'qualifying designators'.
It's 'just' a Porsche 4-cam motor, Typ 547/1.
Simple as that.

Please pardon any problem this process may produce.
All I want to do is sell the thing.
(And I don't want/need to educate persons about these rare gems; seems I do that a LOT- and not just about those pesky designators.)

Thanks for the good 'conversations' we've had, and all the visits the auction has received.
Come back Monday and it starts anew- with a positive result at the end; somebody will go home (figuratively) with this motor!

Have a great weekend!