Monoprice 8inch 4pin MOLEX Male to Two 15pin SATA II Female w/ 90 degree Power Cable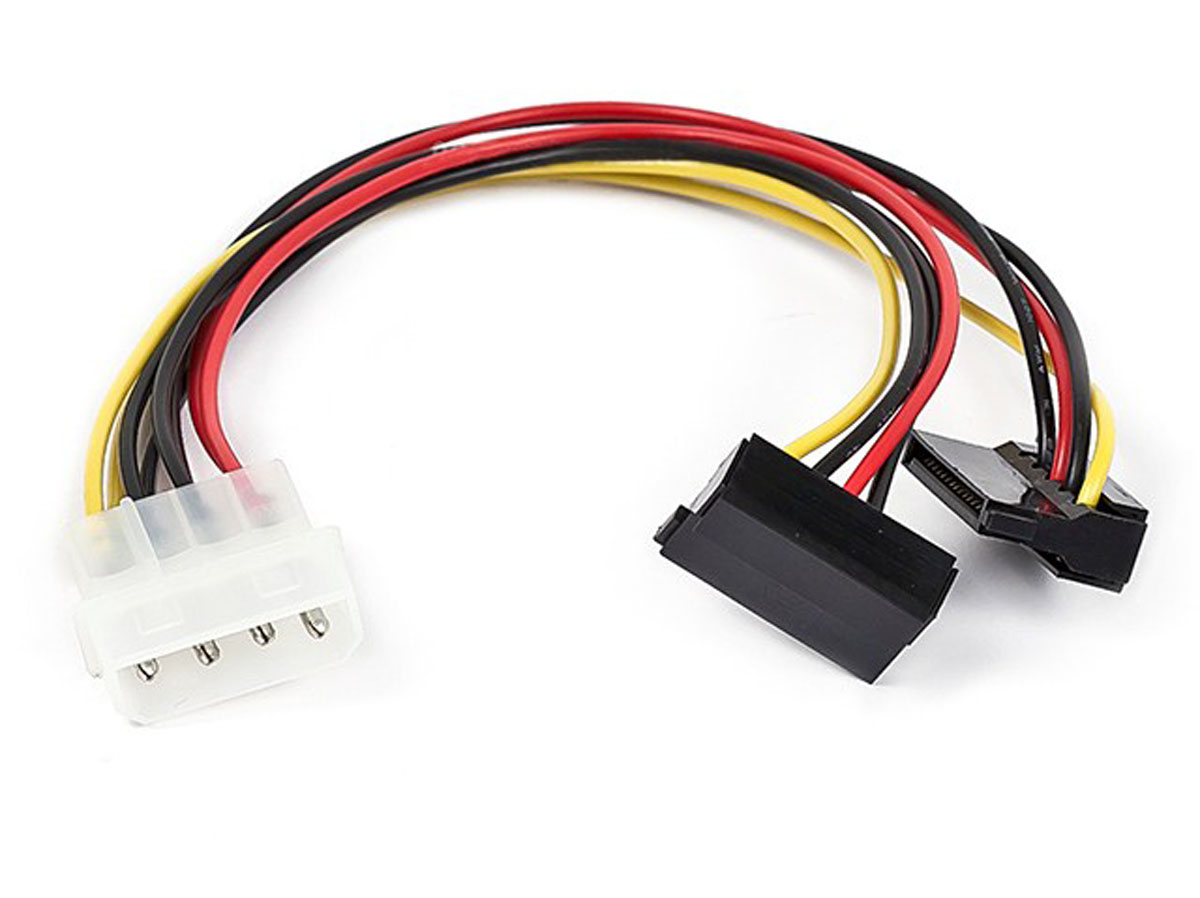 The Serial ATA standard provides for the adoption of a new 15-pin drive power connector, replacing the ubiquitous 4-pin Molex connector. However, existing system cases and power supplies may have an insufficient number of SATA power connectors, while still retaining the older Molex connectors. This 8" adapter cable plugs into a 4-pin Molex power plug and provides two 15-pin SATA 90-degree power connectors. Each SATA connector is at the end of its own 8" lead, so they can be connected to drives further than 8" apart, so long as the each drive is not further than about 8" from the Molex connector. Warning! The Molex connector provides only 5 and 12 VDC power. While many SATA drives only require these power levels, some require the additional 3.3 VDC power provided for in the SATA specification. Make sure your drive does not require 3.3 VDC before purchasing this adapter cable.
Terms
General Terms
Thank you choosing Monoprice through our eBay online store.
In order to provide you with the fastest service delivery possible we are not able to change or cancel your order once it has been placed.Orders received before 1PM PST should ship same-day. Any orders placed after this time, will be shipped the following business day.
*Please note, business days are Monday-Friday (excluding holidays and weekends)
Customer Support
Customer Support
Customer Support Hours
Monday ~ Friday: 6:00AM ~ 6:00PM PST
*Inquires will be responded to within 2 business days.
Warranty
Warranty Period:
Monoprice Branded Cables* and Wall Mounts: Lifetime warranty
Monoprice Branded 3D Printers: 1 year repair warranty only
Other Monoprice Branded products: 1 year replacement warranty only
Monoprice Branded Refurbished/Recertified products: 90 day replacement warranty only
Non-Monoprice Branded products: 30 day return period
*Adapters are not classified as cables
*Warranty starts from date of purchase
Returns
Returns & Refunds
Monoprice stands behind the quality of everything we sell, and we are committed to your satisfaction.
If you're not happy with your purchase for any reason, you can return it to Monoprice within 30 days of delivery date for a replacement or refund.However, if at the time of sale Shipping and Handling was charged, this is not refundable.
All returns, whether for refund or replacement, require a Return Merchandise Authorization (RMA). To obtain a Return Merchandise Authorization Number, please setup a return request through your eBay account.
Products that are returned without prior RMA and the RMA# clearly printed on the address label will be refused and sent back to the sender.
Shipping
Shipping
Monoprice chooses shipping methods that will provide prompt delivery along with accurate tracking information. Once your order is processed, a tracking number will be provided.
The general transit time for orders shipped within the US is 3-6 business days. Most of our items ship Ground and may not require a signature for delivery. If you are purchasing a high value item, please ensure that someone can receive the package.
Monoprice does not directly ship to International addresses; these orders will be processed through eBay's Global Shipping Program.
The majority of our items do not ship to PO Boxes, US Protectorates, or APO/FPO addresses. Please validate your shipping address with us before placing your order.