As leading led light manufacturer, we seriously promise:

1.100% factory direct sale.

2.100% adopt Original brand raw material.

3. We offer free express shipping (DHL,Fedex,EMS and so on) for over 2kg, or amount over 100 dollars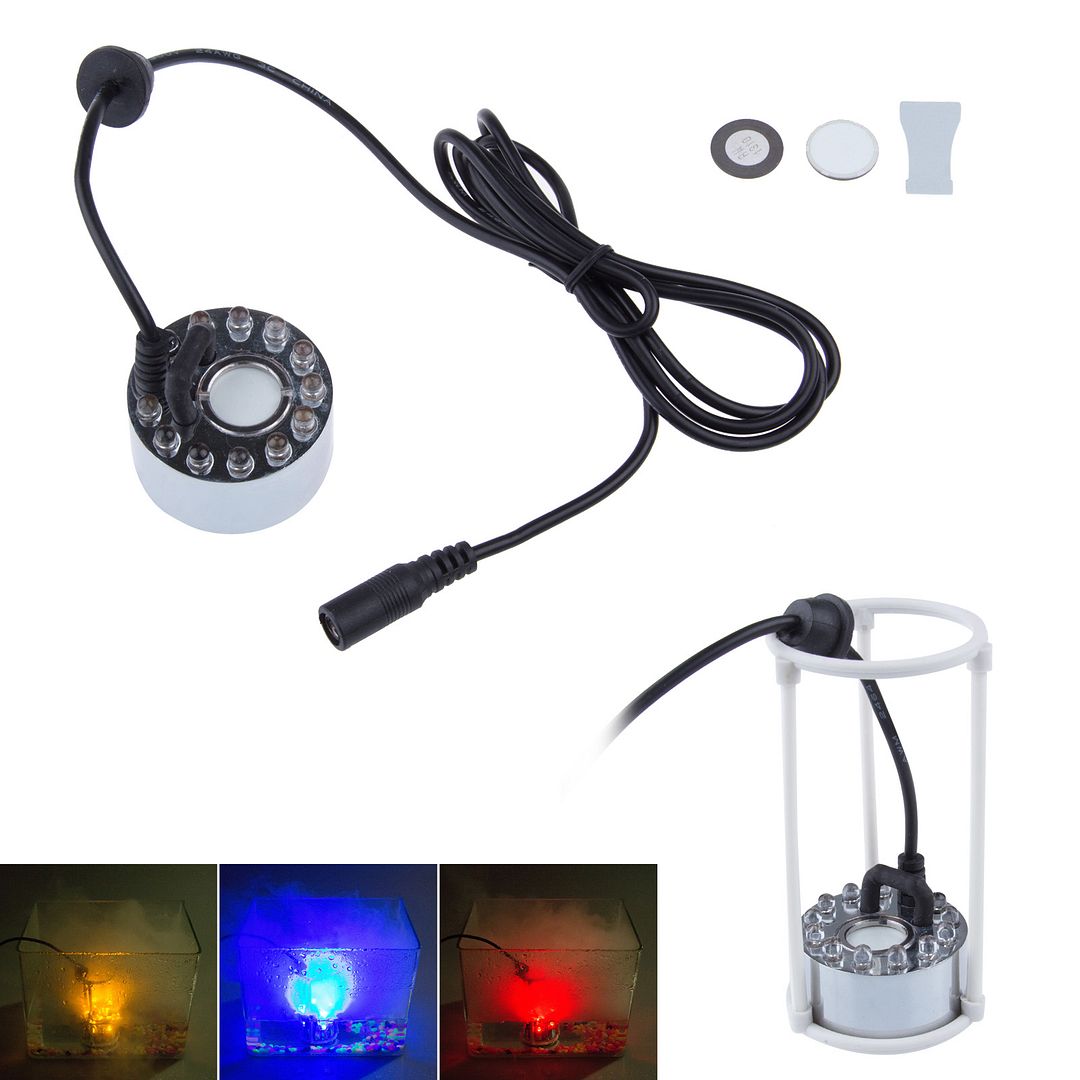 12 LED Mist Maker Fogger Water Fountain Pond Fog Machine Atomizer Air Humidifier
US/UK/AU/EU Plug available

Features:
- This 12 LED mist maker can add a stunning mist effect to your pond or water tank to filter the bad smell with electro and ultrasonic technology
- Brand new and high quality
- Water Level sensor (turns mister OFF automatically when the water level is low)
- No heat or chemicals used
- Easy to operate
- Ideal for indoor fountains, water feature, and office use
Specification:
1 . spray head parameters:
Input voltage: AC / DC 24V
Input Current: 600 mA
The maximum amount of evaporation: 400ML / H ~ 500ML / H
Ambient temperature: + 1 ~ + 40 ° C
Use depth: 40 ~ 70mm
Wire Specifications: Black 3.8mm PVC wire, long 1400 ± 20mm
Nozzle Dimensions: Φ46.5 * 24mm
Atomization Disc Diameter: Φ20mm
2 . transformer parameters:
Input voltage: AC 110V ~ 220V / 60Hz
Input power: 16W
Output voltage: AC / DC 24V
Package:
1 x fogger mister
1 x AC adapter (US Plug)
1 x frame
2 x Atomization piece
1 x fogger mister replacement key
For UK/AU/EU buyers,we will send out a free Power converter to use in your countries.

Points for attentions:

1.Do not turn over the Mist Maker When the switch is turned on, keep upright, or it may damage the atomizer.
2.Please ensure that the daily running time is less than 10 hours, otherwise the life of atomizing slice will be shorted.
3.Don't touch the atomizing slice while the Mist Maker is working.
4.Ensure the water at high quality, use clean tap water. (water quality deterioration may influence the lifetime)
5.Please switch off the power before Movement or maintenance.
6.The atomizing slice is consumable, and its service life is≥3000 hours. If marked reduction of Mist present, please clean atomizing slice with a cotton swab (don't need to use any detergent). Keep it clean.